I had heard the brand Cup4cup Gluten Free Wholesome Flour Blend
was good, but I thought it was a little pricey.  I came across it at Stop and Shop though, and figured I would give it a try in my Best Blueberry Muffin recipe.  I was not disappointed!
These muffins really are the best because they are loaded with blueberry flavor! Last year I became obsessed with The Great British Bake-Off on PBS for two reasons. Number 1: I love baking and number 2: because I love all things British!  Well, I noticed that they were always making jam (with no recipe, by the way, just berries and sugar).  Since gluten free baking can often come out dry in texture, I got the idea that adding a blueberry jam to these muffins would not only add flavor but moisture too!
The Cup4cup Gluten Free Wholesome Flour Blend
was also a winner, as these came out with the taste and texture of a whole wheat muffin, plus this flour is a healthy GFree alternative as it has a lot of fiber in it, since it is whole grain and contains ground flaxseeds.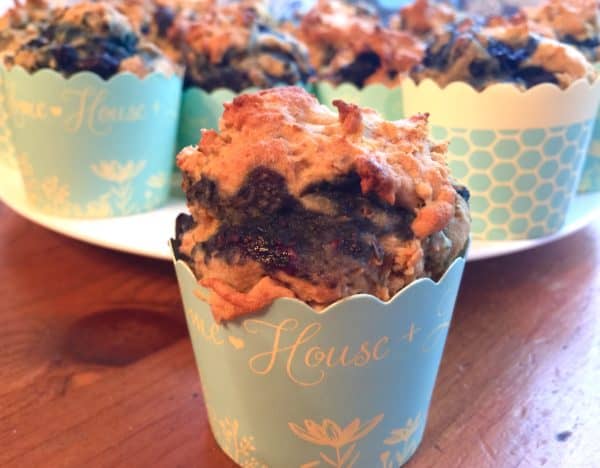 | | |
| --- | --- |
| | |
Preheat oven to 375 degrees.

Line standard muffin tin with liners.

Add 1 teaspoon apple cider vinegar to almond milk and let sit while cooking berries.

Bring 1 cup of blueberries and coconut sugar to a simmer in a small pot. While it is cooking, mash the berries with spoon, and reduce the mixture for about 6 minutes until it is thickened. Allow to cool about 10 minutes.

In a large bowl, mix flour, baking powder, baking soda, lemon zest, and salt. *If using frozen berries, rinse them under cold water before adding them to the flour mixture now.

In a separate bowl whisk eggs with almond milk, maple syrup, applesauce, coconut oil, and vanilla.

Fold wet ingredients into dry ingredients along with 1 cup of remaining blueberries just until combined.

Fill muffin cups 2/3 full. Then spoon about a teaspoon of blueberry jam onto each muffin. Using a skewer, swirl cooked blueberries into the batter, then top with remaining batter, divided evenly.

Bake for 17-19 minutes. Cool.