My daughter and I are headed to Florida this weekend.  So many of you ask me how you can stay healthy while traveling. Well, with a little planning, you can easily do it. Here are some tips that I use to stay healthy whether I am traveling by plane or by car.
Stay Hydrated
If you are flying, airplanes have very dry air and can dehydrate you. You can bring an empty water bottle through security and fill it at their filtered water stations. Your flight attendant can also fill it for you on the plane.

I love my Travel Berkey because I can refill it no matter where I am and have filtered water anytime. This filter is so powerful, you can put a Coke in it and it will come out like seltzer. (Not that I recommend that) It also saves tons of money on buying plastic water bottles.
Remember that caffeine also dehydrates us along with alcohol, so avoid drinking these if traveling on a  plane.
A snack with chia seeds or chia in water can keep you hydrated as they absorb nine times their size in water. Include fruit in your breakfast which will also help hydrate you.
Bring Healthy Snacks
It's a good idea to bring healthy snacks with you when traveling, as healthy food can be difficult to find on the road. Trail mix (not with m&ms) and dried fruit make  great snacks. Apples, bananas, clementines, mini cucumbers, red peppers, and avocados travel well. I like to keep individual packs of nut butter in my purse. Soy/dairy-free protein bars are also good to have on hand.
If I am traveling by car, I always bring a small cooler. Most hotel rooms have mini refrigerators now to keep things fresh. When you arrive at your destination, make a quick stop at the local grocery store and pick up some fresh fruit and vegetables to have on hand.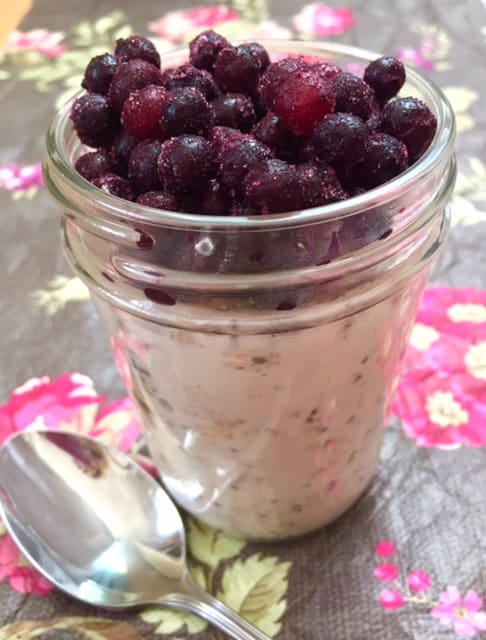 I always bring overnight oatmeal with me in a jar, one with liquid and a few others dry. At my destination, I can pick up almond milk to add or just add water so I have a hearty breakfast wherever I go. This also saves money, since we don't have to spend money in a restaurant or rely on the carbohydrate-laden continental breakfast served at most hotels.
I always bring at least one salad in a jar for lunch. These travel so well. Here's How to Pack the Perfect Salad in a Jar from thekitchn.com.
Choose Whole Foods
Just because we are on vacation or traveling doesn't mean we have to stop healthy eating. If you load up on heavy-laden foods and carbohydrate-filled foods, you are not going to feel well. Try to choose whole foods where you can.
Plan ahead where you will be eating. Search online for organic restaurants that serve healthy options and where a good grocery store is.
Travel Snack Ideas
hummus
applesauce
salad in a jar
non-Gmo popcorn
fresh fruit
kale chips
granola
trail mix
seeds
grass-fed beef jerky
celery sticks
carrot sticks
hard boiled egg (not on a plane, smelly)
homemade muffins
The following two tabs change content below.
Erin Sands is a Certified Culinary Nutrition Expert whose focus is on using food and nutrition to build health and reverse disease.
Latest posts by Erin Sands (see all)