It's tomato season and the tomatoes are just beginning to ripen on the vine! Soon I'll have a plethora of tomatoes, so it's time to roast up some fresh tomato basil soup! I roast up a huge batch of this when my summer bounty of organic heirloom tomatoes ripen. I then jar it in pint size jars and freeze them, so I can enjoy the taste of fresh tomatoes all year round!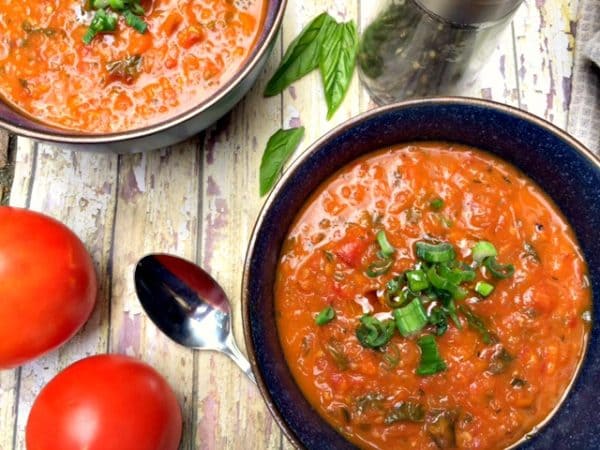 | | |
| --- | --- |
| | |
Preheat oven to 400 degrees.

Toss tomatoes with olive oil and place cut side up on a baking sheet. Sprinkle with salt and pepper and roast for 45 minutes.

Heat the ghee in a large pot over medium low heat. Add onions, carrots, and celery and cook for about 10 minutes until soft.

Add the garlic and cook for 1 minutes. Add the roasted tomatoes, tomato paste, thyme, basil, chicken stock, and one teaspoon of salt and pepper. Bring to a boil. Reduce heat and simmer for 40 minutes.

Process soup through a food mill on the course setting. Alternatively, for a smoother texture process soup in a food processor or blender. Adjust seasoning. Garnish with scallions.

Can be served hot or cold.
The following two tabs change content below.
Erin Sands is a Certified Culinary Nutrition Expert whose focus is on using food and nutrition to build health and reverse disease.
Latest posts by Erin Sands (see all)