I recently had a lemon curd dessert at an upscale restaurant and just had to try a version of my own, but a healthier one, of course. This Lemon Curd with Strawberry Rhubarb Chia Topping tastes incredibly indulgent, yet it has no dairy or refined sugar in it. Make this for a special occasion. You can serve it warm, or cold. We liked it cold.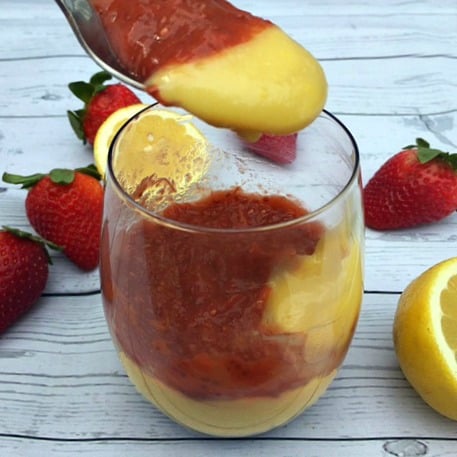 The tangy lemon pairs so well with the sweet strawberry and rhubarb. If you haven't cooked with rhubarb, you've got to try this healthy fruit! It tastes a bit tart raw, but gets sweeter when cooked or baked.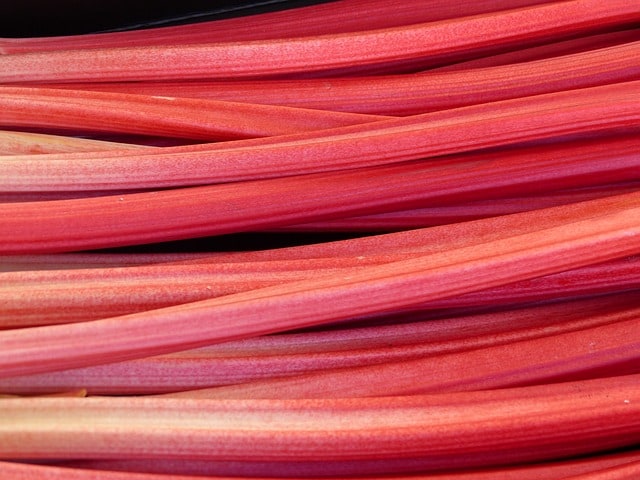 Rhubarb is also loaded with nutrition. It is a great source of dietary fiber, vitamin C, vitamin K, B-complex vitamins, potassium, manganese, protein, and magnesium. It is also very high in antioxidants which helps prevent cancer and heart disease.  Vitamin K is the most prevalent nutrient in rhubarb, which is essential for brain health. Vitamin K also improves bone health by stimulating bone growth and repair.
There now, didn't I make you feel so good about eating this delicious dessert!!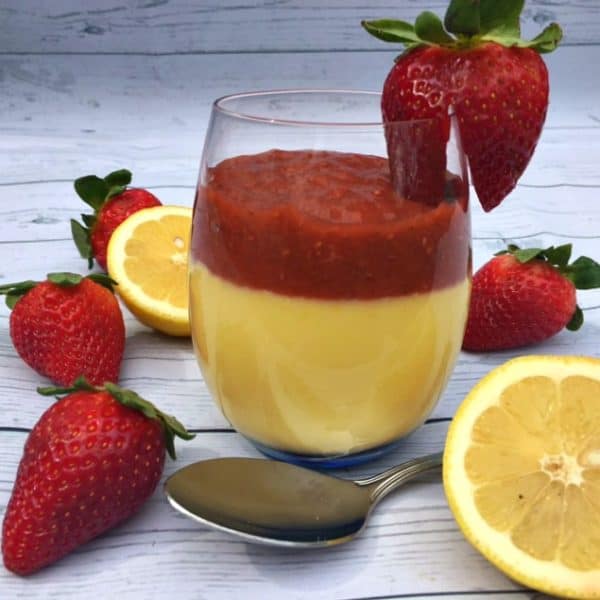 Strawberry Rhubarb Chia Jam
| | |
| --- | --- |
| Strawberry Rhubarb Chia Jam | |
Whisk eggs, lemon juice, zest, and honey together in a medium pot until combined. Heat on medium-low, while continuing to whisk.

Add coconut oil and continue to cook while whisking until mixture starts to thicken and become creamy. (You will see lumps.) Remove from heat and pour curd through a fine mesh strainer. Pour into dishes and chill while preparing topping.
Strawberry Rhubarb Chia Topping
Combine strawberries, rhubarb, lemon zest, sugar, and water in a medium pot. Heat on medium until fruit has softened and has become mushy.

You can leave fruit chunky or puree with an immersion blender or mash with a for. Add chia seeds. Chill for 30 minutes and then pour about 3-4 tablespoons over lemon curd.

You can serve warm, or chill for at least four hours.
The following two tabs change content below.
Erin Sands is a Certified Culinary Nutrition Expert whose focus is on using food and nutrition to build health and reverse disease.
Latest posts by Erin Sands (see all)