If you are a coconut lover, this cake is for you! This Gluten-free Coconut Custard Cake is three layers of coconut infused cake filled with creamy coconut custard and topped with coconut whipped cream frosting. And of course, it's covered with a drift of white coconut flakes. I like mine untoasted for a pure, white color, but you can go with toasted coconut if you prefer.
All of this without gluten or dairy! Instead, I used coconut oil, coconut milk, and coconut sugar for tons of coconut flavor! Whipped egg whites give this cake its structure and moistness.  The coconut custard is rich and creamy and can be as stand-alone dessert.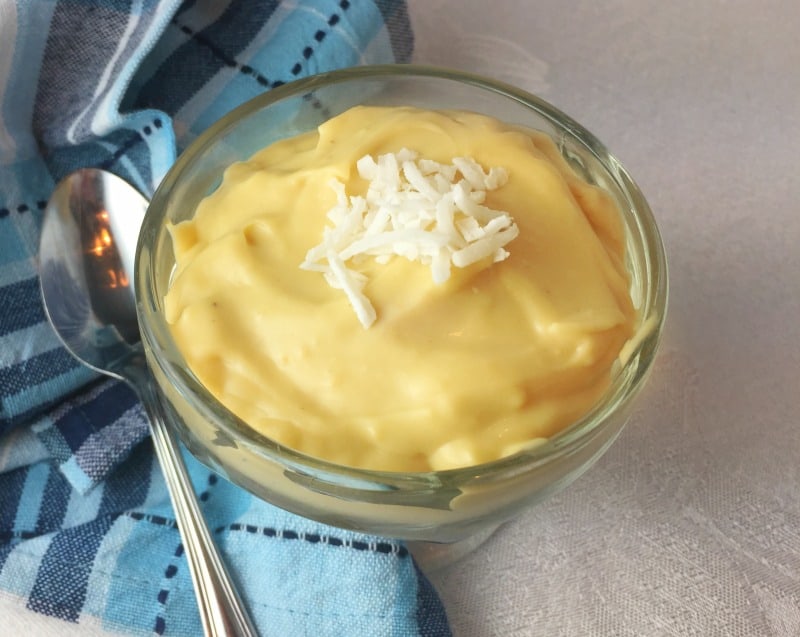 Because this cake gets refrigerated, it can easily be made ahead of time. Give yourself time to let the custard set; overnight is best.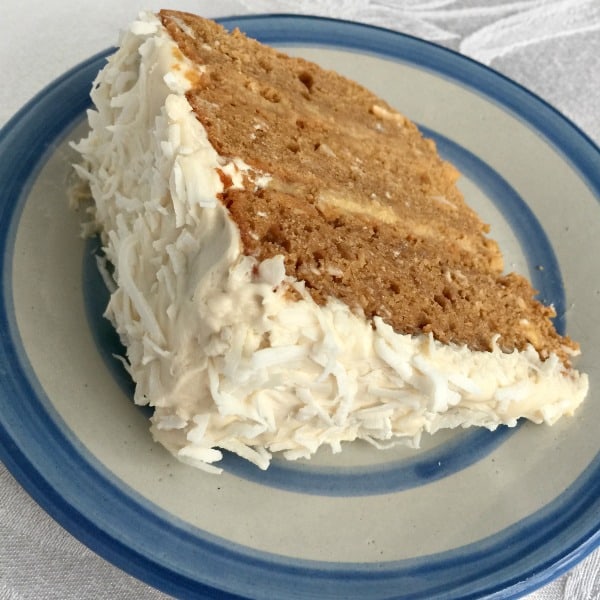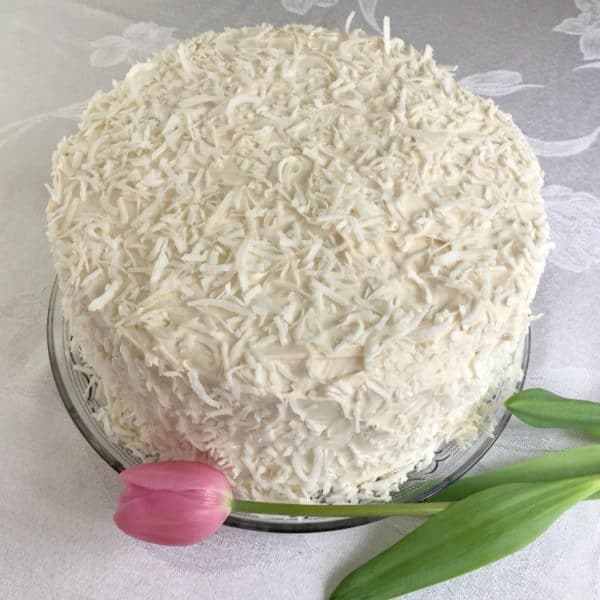 | | |
| --- | --- |
| | |
Preheat oven to 350 degrees. Grease 3 8-inch cake pans or 2 9-inch and line the bottom with parchment paper.

In a small saucepan melt coconut oil and coconut milk. Add sugar and allow to cool.

Put the egg whites in a mixing bowl with whisk attachment and mix on medium speed until foamy, about 1 minute. Beat in cream of tartar and mix on medium-high until stiff peaks form, about 2 minutes.

In a medium bowl sift flours, xantham gum or psyllium, baking powder, and salt. Add cooled coconut mixture and coconut and combine. Gently fold in egg whites.

Divide batter between pans, smoothing tops, and bake until layers are golden brown and toothpick inserted in center comes out clean, 20 to 25 minutes. Cool in pan for 10 minutes. Run knife around cake layers to loosen, invert onto rack, and peel off the parchment. Cool completely, at least 1 hour.

At this point I like to wrap my cake layers and freeze them. This makes them much easier to frost. It also is a way to make this cake ahead of time. You can frost the frozen cakes the day before and then keep the cake refrigerated overnight.
Gently open can of chilled coconut milk and scrape off the cold cream that has risen and solidified at the top of the can. In a stand mixer, beat the shortening and cream on medium-high until thick. This will take about 5-15 minutes.

Add the sweetener, coconut flour, and vanilla and beat until incorporated. If using sugar, reduce coconut flour to 1 teaspoon. Refrigerate for at least 20 minutes before using. Reserve shredded coconut to press on to cake after frosted.
In a medium saucepan, whisk coconut milk, sugar, and arrowroot. Heat over medium heat until just bubbly and starting to thicken.

In a medium bowl whisk egg yolks, and salt. Pour 1/3 cup hot milk into the egg yolks, whisking constantly. Pour egg yolks back into the pan and heat until just bubbly and thick. Remove from heat and stir in vanilla.

Pour custard through a fine mesh strainer into a bowl. Press plastic wrap directly on to the surface. Refrigerate at least 4 hours.
Layer cake, using 1 cup of custard between each layer, then frost top and sides with frosting. Press coconut flakes onto the frosting.

Keep cake refrigerated until ready to serve.
The following two tabs change content below.
Erin Sands is a Certified Culinary Nutrition Expert whose focus is on using food and nutrition to build health and reverse disease.
Latest posts by Erin Sands (see all)