This recipe is a little twist on traditional Filipino Chicken Adobo. Instead of just braising the chicken in the sauce, I start by browning the skin in a cold pan. As it heats, the fat begins to render, making the skin nice and crispy!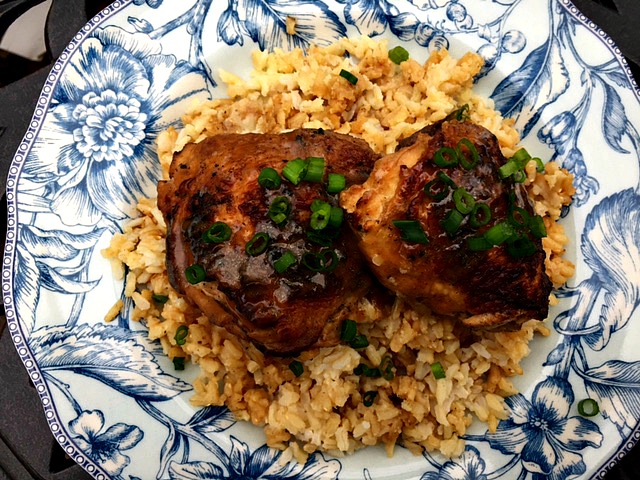 Chicken Adobo traditionally calls for soy sauce, but I wanted to introduce you to an alternative. Soy sauce is essential for Asian food recipes and can add meatiness to your stew and soups, as well as helping to make vegetarian dishes a little more hearty, but soy is one of  the most genetically modified foods on the planet. It can be a cause of food intolerances and can cause inflammation in the body. On top of that, soy sauce contains gluten.
COCONUT AMINOS

But have you ever heard of Coconut Aminos? It is an awesome replacement for soy sauce that doesn't taste like coconut but has an "umami" taste similar to soy sauce.  It contains coconut tree sap and salt. The sodium content is less than 1/3 of the same amount of sodium in soy sauce. You may already know that coconut is great for heart health. Coconut is also very high in antioxidants, helping the body rid itself of toxins.  Coconut is also an anti-inflammatory food which may help reduce heart disease and prevent diabetes and cancer.
Coconut aminos can be found now at Trader Joe's and Whole Foods. You can also get it on Amazon. Use it as a replacement for soy sauce in any of your recipes and give it a try in this Chicken Adobo!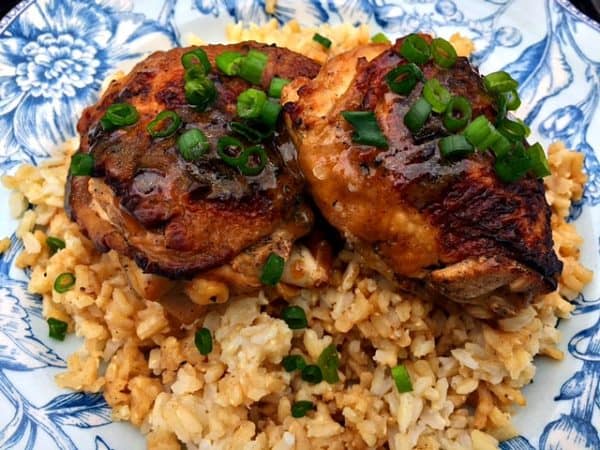 | | |
| --- | --- |
| | |
Marinate chicken in coconut aminos for 30 to 60 minutes.

Remove chicken and place on paper towels to dry. Reserve coconut aminos and add coconut milk, vinegar, garlic, bay leaves, and peppercorns.

Place chicken, skin side down in a non-stick pan or seasoned cast iron pan. Place over medium-high heat and brown skin, being careful not to burn, about 5-7 minutes. Turn chicken over and brown for another 5-7 minutes. Pour off all but a tablespoon of fat in pan.

Flip chicken skin side down again. Add coconut mixture and bring to a boil. Simmer, uncovered for 20 minutes. Flip chicken and cook another 15 minutes until chicken is cooked through.

Remove chicken from pan and tent with foil. Return pan to medium-high heat until sauce is thickened, about 5 minutes. Pour over chicken and sprinkle with scallions.